Koho Font is an elegant unique display typeface having a wide range of styles. It supports multiple languages including Thai and Latin primarily. Its smooth and clear texture adds value to any artwork.
Cadson Demak foundry who has developed many top-notch typefaces is the designer of Koho Font as well. Their popular font includes Sriracha Font, Chakra Petch Font, Itim Font, Kanit Font, and many others.
This font family is inspired by humanist and geometric sans serifs texture. Preview the text map images it doesn't feature too mechanical nor calligraphic texture.
Following a uniform baseline, along with such juxtaposition, it suits for text and display designs operations. It owns an elegant foundation, but with a perfectly modern attractive appearance, building reading comfortable, but never tiresome.
Koho Font Family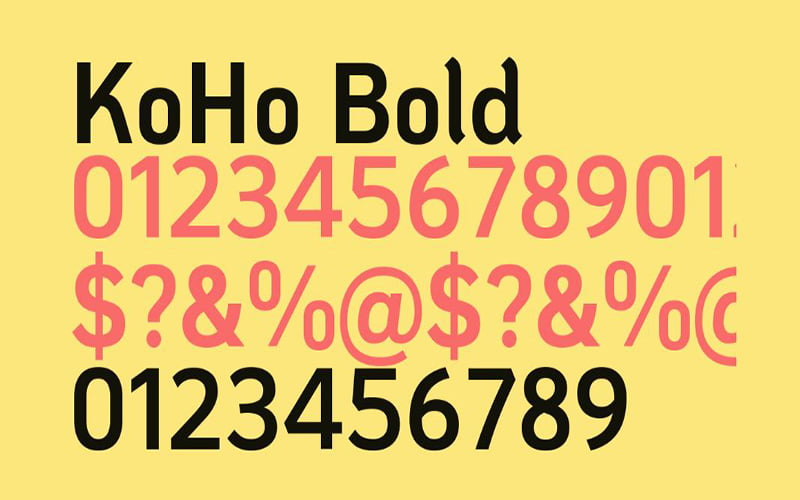 This font family is available in twelve unique styles that are too much for fulfilling any designing venture. It provides any text with a calm and clear feeling for sure.
Font weights include Light, Extra-light, Regular, Medium, Semibold, Bold, and italics for each. The outside curves contrast with the angled inside counter shapes, which share feelings of depth and softness at the constant time.
Koho font can be used for a variety of formal and informal texts designs, such as in logos, banners, hoarding, labelling, business cards printings purposes, cultural and educational works.
It assures to yield a smooth and attractive appearance and protects the creative value of your artwork. You can also practice it in video titling, brochures designs and others.
Another fascinating aspect about Koho is that it comes along with SIL open font license that allows you to use it in person as well as for the commercial work operations like Fira code and flamenco font.
Download this royalty free typeface from here after clicking over the download link below in a true type file format and use it where ever you like after installations.