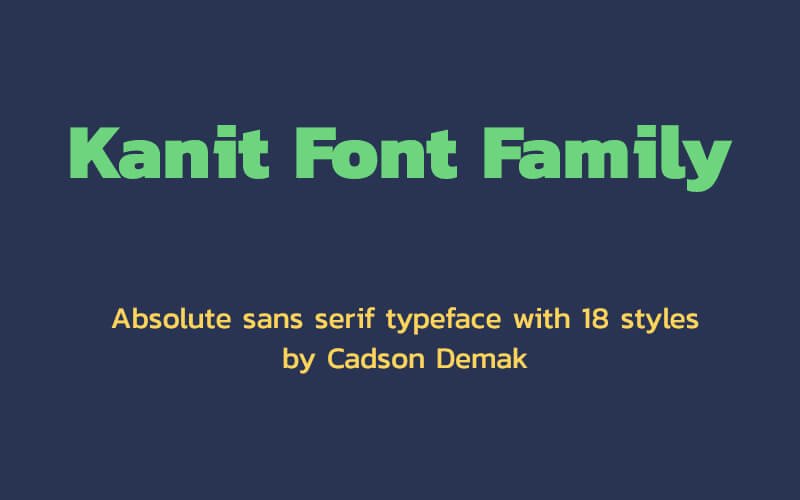 Kanit Font is a complete set of sans serif font family with 18 unique fonts styles. Cadson Demak type foundry took the charge for designing and releasing it for the first time for textual designs primarily.
Its name "Kanit" literally means mathematics in Thai and its elegant Loopless Thai and Sans Latin design help creating Thai designers to spell astonishing appearance to their artworks.
Having a huge set of textual styles, top-notch traits and easy font variation texture have made Kanit a perfect suit for any designing operation. Along with THAI It also supports many other languages.
The creator of this typeface took inspiration for crafting this from combining humanist sans serif layout with the curves of Capsulated Geometric forms that makes it fit for multiple uses.
Kanit Font Family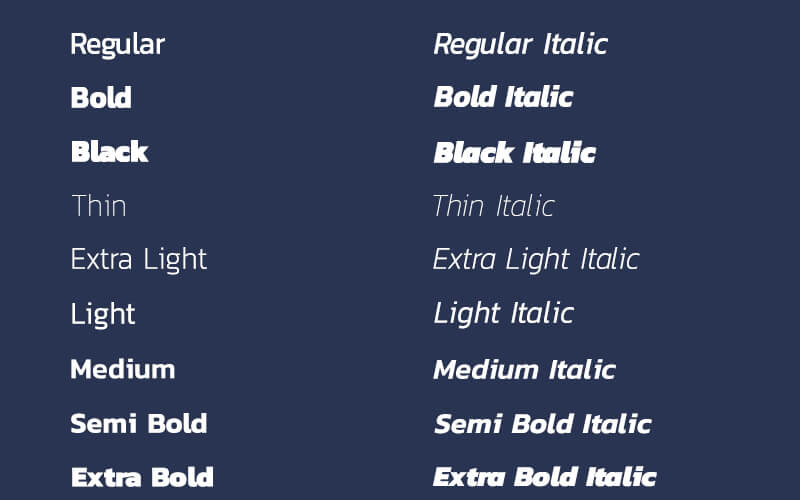 It has 9 weights styles including Thin, Extra-Light, Light, Regular, Medium, Semi-Bold, Bold, Extra-Bold, Black along with 9 italics for each weight. Ideal for the best pairing technique and delivering legibility.
As per having sans serif layout all the letters possess flat angles to stroke terminals and follow a uniform baseline to form perfect readable smaller point sizes texture similar to Belleza Font Family.
Preview the font map images to see how this design is going to take your designs to the next level of magnetism. Cadson Demak foundry took huge care in designing each letter especially ก ถ ภ ฤ ฦ, ฎ ฏ, บ ป, and ข ช to ensure they are distinct and legible.
The most fascinating aspect of this basic font family is that it is free for personal as well as for the commercial uses. You can use this royalty-free font anywhere you like and it will help you deliver your designing thought to a page.
It also includes TTF auto hinting feature an easy-to-use hinting tool that is highly recommended. Here you can get it in an open type format in a single click. Do let us know how is your experience with kanit.